We are thrilled to announce the 2021 edition of the Tour de T1D is running LIVE!
This year we celebrate history as 2021 marks the 100th anniversary of the discovery of insulin by the combined efforts of Sir Frederick G. Banting, Charles H. Best and John J.R. Macleod at the University of Toronto.
Many events around the world celebrate "The 100" and we think there's no better way to highlight this discovery than by riding in the Tour de T1D while increasing awareness of Type 1 Diabetes and improving the lives of those living with T1D. All funds raised are directed to the Youth Diabetic Clinic of the Royal Victoria Regional Health Centre in Barrie.
Due to potential restrictions related to Covid-19, we will run this event with some modifications and restrictions.
Important change to the event
As we get closer, we are paying attention to government decisions regarding gatherings and vaccination status.
We have made some positive changes to your experience!
We will allow indoor entry and gathering at the beautiful Heights Ski and Country Club chalet! You can come get your morning coffee before heading out on the ride.
We are allowing indoor registration! We had planned on a drive-by system. Since we are now allowed indoors, we are bringing back the Registration Table.
When you have parked your car, come inside to the registration table to register, get your water bottle and your lunch bracelet. Please remember you need a double vaccination status to enter.
After the ride, you can come and relax inside to chat about your ride with friends and enjoy your post-ride meal.
Important notice regarding Vaccination Status
If you want to enter the building, new provincial government ruling states you either:
1. Have to have proof of double vaccination dated before September 8th and your ID.
OR
2. A proof of a negative Covid-19 test dated later than the 24th of September.
We are doing things differently this year.
This is a bike ride to raise funds for the Youth Diabetic Clinic at the Royal Victoria Regional Health Centre. In honour of the 100th anniversary of the discovery of insulin, we are eliminating the registration fee and replacing it with a $100.00 entrance fee that will be a direct charitable donation to the Clinic and eligible for a tax receipt. As we are trying to raise funds, this amount is a minimum entry fee and participants can elect to donate more at their discretion. It eliminates the request we have had in the past for participants to fundraise individually.
In 2019, we raised over $47,500.00 dollars for the Clinic. Part of it was used to help build and develop an improved experience for youth patients and their families as they attend the Clinic.
Our goal is to see this number increase to further improve the Clinic services.
Date: 26 September 2021
Location: The Heights Ski and Country Club - 1106 Horseshoe Valley Rd W, Oro-Medonte, Ontario
Routes: We are keeping the same 3 routes. Here are the files for your cycling computer.  Click on the ride below for more information.
Please disregard the Ride with GPS comment regarding unpaved roads. All routes are fully paved.
Please note there will be no route marshals as in past events. This is to limit the number of individuals associated with the event in case of contact concerns related to Covid-19. Every rider will be responsible for self-guiding by the following options:
- Downloading the above files in their cycling computer.
- Riding with a colleague who has downloaded the files in their cycling computer.
- Printing the directions from ridewithgps.com files and carrying a paper copy.
- Following the well marked signs along the route.
While still respecting social distancing, we will have riders get together at the start line instead of previous indications of "Start Windows". This will still be while being distanced or remain close to known contacts. It is outside therefore masks will be optional.
This will allow the excitement of a "Start" with a big air horn for each route.
We will also get going a little later and allow most riders to return within a tighter timeframe and enjoy the post- ride meal.
- 100K Discovery route: 08:00 am
- 50(+) route: 09:00 am
- 25K: 10:00 am
To decrease a long wait, we recommend arriving for registration about 30-45 minutes before your start time.
This is NOT a race. Riders are obligated to ride respecting traffic rules including stop signs, slowing down for railroad crossings, maximum 2 riders abreast (if more than 3 riders), wearing a helmet. We highly recommend having a white light on the front and a red light on the back of your bike at all time, even if the event takes place during daytime.
Ontario Cycling Association guidelines for sanctioned mass cycling participation events dictates cycling groups should be limited to 8 cyclists.
There will be a sweep vehicle driving behind the last rider of each route in case a rider cannot continue due to physical / health issues or a mechanical problem unable to be fixed on the road.
Odyssey Medical will provide first aid services for the event this year. They will have a crew at the Heights chalet and another to head to an injured rider on course.
As per past years, we are thrilled to have the expertise and services of the staff from Trek Barrie to provide onsite services at the Start/Finish but also be available for route related minor mechanical issues requiring a quick fix. If the mechanical problem is too serious for a rapid fix, please use the Sweep vehicle to bring yourself back to the Heights.
As we are planning within potential restrictions, each participant will receive a lunch bracelet upon registration. The Heights kitchen will prepare individual boxed lunches to be handed to participants at the finish. This might also change as we get closer to the event. Stay tuned for updates.
IMPORTANT: As we need to order and plan, riders who register after Friday 17 of September cannot be assured to receive a post-ride meal.
Get your great custom Tour de T1D jersey celebrating the ride and the 100th anniversary of the discovery of insulin! Designed by Nicole Van Beurden.
It can be purchased from Jaroo directly and delivered to your door. Unfortunately, due to delivery times, it might not make it to your door before the event but you can wear it proudly as you highlight your support for this great cause!
Order at : http://shop.jakroo.ca/Tour-de-T1D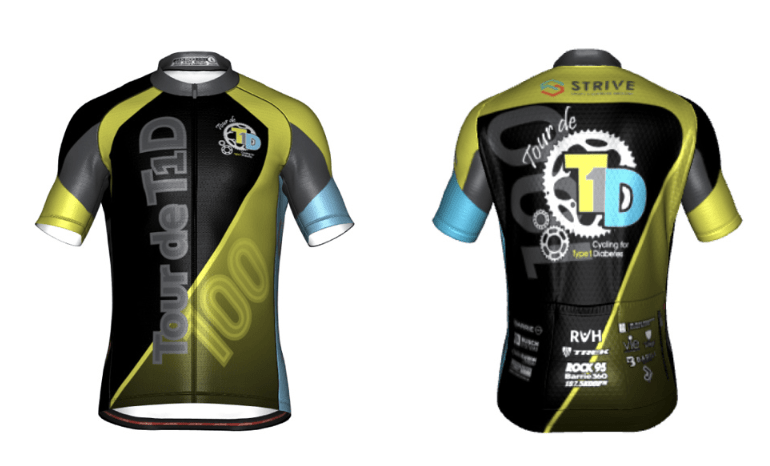 Upon registration, you will receive email updates of progress and changes to this great event. Unfortunately, due to unpredictability, we might be ordered to cancel the event due to Covid-19 related provincial rule changes. Please be aware the charitable donation will not be refunded.
In 2016, Barrie physicians Drs Darlene Newnham and Richard Goudie's son Lukas was diagnosed with Type 1 Diabetes (T1D) at the age of 14.
In 2018, Lukas's parents combined their passion for cycling with their desire to raise awareness and funds to improve the lives of youth with T1D. Since no large scale outdoor cycling event existed in Canada, they created the Tour de T1D. To date, their ride has seen over 300 riders and raised over $80,000.00. Their dream is to see this ride become a recognized annual T1D event drawing riders from all over Canada.
T1D is an autoimmune disease for which no cure exists.
It is still considered a lifelong condition managed with insulin via repeated daily injections or an insulin pump providing continuous delivery.