What a fantastic day!
We pulled it off. After many months of worries about pandemic-related restrictions and permissions from the government, we were given the green light on July 28th…. that gave us about 7 weeks to plan an event that usually takes us 6-8 months to coordinate. Some sacrifices were made but what a day it was!
116 riders registered, with only a handful not able to attend due to injury or other scheduling conflicts that came up.
A total of $26,075.00 was raised for the Youth Diabetic Clinic at the Royal Victoria Regional Health Centre.
Countless smiles lit up the day only to be eclipsed by the sunny warm weather.
What else can we say but thank you to everyone.
Thank you to every rider who registered, to the volunteers who woke up early to help us deliver this event to you, to the staff at the Heights Ski and Country Club for hosting us in comfort as they caffeinated your departures and offered you great meals upon arrivals, for the drivers from Barrie Nissan for assuring your security as they drove the combined 175 km of routes behind you, for Peter and Diana Meneguzzi who took on the mighty Horseshoe Valley road safety detail as the OPP never showed up as promised,  for Nicole Van Buerden the multi-talented designer for creating the great jersey designs and assuring the bottle and volunteer shirt orders would come in on time, for Kim and Caleb from Trek who were scurrying all over making bike repairs to keep you on the road. We hope we are not forgetting anyone.
We have to pay special tribute to our sponsors without whose help we cannot do this at all. You will find their representation at the bottom of this page.
After some relaxation and mind clearing, we will meet with the Youth Diabetic Clinic managers and clinical staff to plan how the Tour de T1D can help the lives and experiences of youth and families living with T1D.
We are also starting the development and planning for the Tour de T1D 2022. Most likely at the same venue but with added routes:
Gravel routes on an easy loop in the Copeland forest accessible from the parking lot. Eliminates riding on the road for those uncomfortable with open roads, the "Horseshoe Climb" and a great option to include youth riders!!
A less "hilly" intermediate distance for those worried about the climbs on the 55K route.
Please join us and bring ALL your friends to the Tour de T1D 2022!
Book your weekend now: 25 September 2022.
You can still get a great jersey!
Get your great custom Tour de T1D jersey celebrating the ride and the 100th anniversary of the discovery of insulin! Designed by Nicole Van Beurden.
It can be purchased from Jakroo directly and delivered to your door. You can wear it proudly as you highlight your support for this great cause!
Order at : http://shop.jakroo.ca/Tour-de-T1D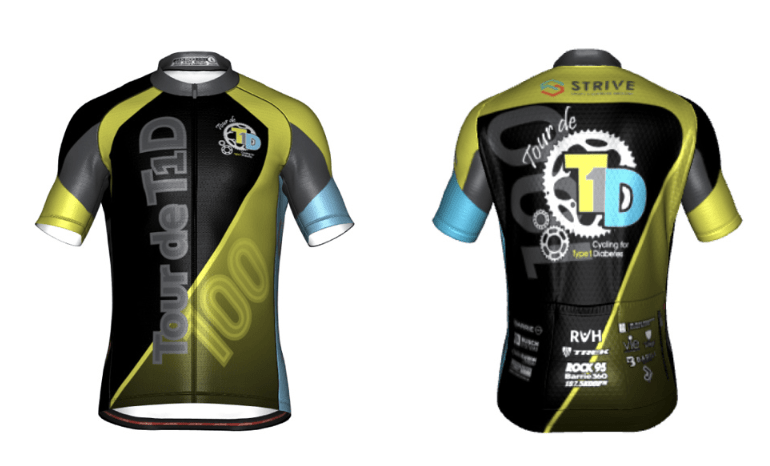 In 2016, Barrie physicians Drs Darlene Newnham and Richard Goudie's son Lukas was diagnosed with Type 1 Diabetes (T1D) at the age of 14.
In 2018, Lukas's parents combined their passion for cycling with their desire to raise awareness and funds to improve the lives of youth with T1D. Since no large scale outdoor cycling event existed in Canada, they created the Tour de T1D. To date, their ride has seen over 300 riders and raised over $80,000.00. Their dream is to see this ride become a recognized annual T1D event drawing riders from all over Canada.
T1D is an autoimmune disease for which no cure exists.
It is still considered a lifelong condition managed with insulin via repeated daily injections or an insulin pump providing continuous delivery.