This year's event will take place on September 25th, at The Heights Ski and Country Club in the gorgeous Horseshoe Valley.
We're making some additions to the route this year to make it even more accessible to a wide range of participants!
There will be a gravel/trail route in the Copeland Forest, which can be reached directly from The Heights parking lot. This allows riders to access the route without going on the main road.
We're also adding a cut-off, removing the Warminster climb for those who want the length of the 55K route, but just want a little less climbing for their legs.
More information about the routes and itinerary for the day can be found below.
What your participation means
Since our initial event in 2018 you have helped raise over $110,000 in support of youth and families who live with T1D. Your support goes directly to the Youth Diabetes Clinic at the Royal Victoria Regional Health Centre where they care for over 200 families and youth living with Type 1 Diabetes.
Our goal is not only to raise awareness about Type 1 Diabetes, but to help improve the experience of existing and newly diagnosed patients at the clinic. When our son Lukas was diagnosed several years ago with T1D, the staff was so caring and supportive as we began our journey with Diabetes. We started this event as a way to give back, and say thank you—but we can only do this with your help!
What you've accomplished in 2021
Your starting fundraising goal for each participant (17 and older) is $250.
(But we challenge you to break that goal!)
Our key tips for participants
 You can join as an individual, create a team or join an existing team!
 Challenge each other to see who can raise the most!
DONATE to get started!
Send your personalized fundraising page to your friends on social media and let them support your ride!
Join us for a fantastic cycling day and help us support T1D care at the Youth Diabetes Clinic!!
See you in September!!!
Richard Goudie
Darlene Newnham
Lukas Goudie
Gabrielle Goudie
Date: 25 September 2022
Location: The Heights Ski and Country Club
High Vista Dr, Barrie, ON L4M 4Y8
Timings:
Rider registration: 7:00 am
100K Paradise Developments Route start: 8:30 am
55K Route start: 8:45am
25K The Madison Group RBC Investments Route start: 9:00 am
Dexcom Trail Route start: 9:30 am
Rest stations: 2 rest stations sponsored by Tandem for the 55K and 100K riders.
The greatest Volunteers are back!! They will help with registration, guide you in the right direction and cheer you on! Sponsored by Busch Systems.
Lunch: 11:30 – 13:30
Sponsored by Barill Engineering
Final reveal: 13:00 h.
Registration: Website and details pending, please return soon for more information
Cost per rider: $75.00
Sweep vehicles and drivers provided by Barrie Nissan
Here are the routes to choose from. All, except the trail route, will have a sweep vehicle provided by Barrie Nissan. Click on the ride below to see it on a map and download it to your cycling computer or phone.
Challenging hilly route around Mt St Louis
997 m of climbing
Includes beautiful Canopy climb, hopefully in full fall colours
Rest stop on the 10th line around 67 km
Another beautiful option including the Warminster climb, a cyclist favorite!
545 m of climbing in short challenging sections
Includes beautiful Canopy climb, hopefully in full fall colours
Rest station the same as for the 100K route at around 27 km
A lovely cycling experience through Oro
A few challenging climbs (Oro Medonte is not flat...)
Gorgeous tree lined roads, farm lands and Horseshoe Valley neighborhood
233 m of climbing
Rest stop in Edgar at the Community Centre, around 12.5 km.
Trail Route (link coming soon):
Ride the easy gravel/dirt trails in the Copeland Forest
No challenging single track but wide double track lanes
Great for all ages, those who want to avoid the roads or the climbing
Access directly from the parking lot of The Heights Ski and Country Club
Do as many laps as you want
Will be marked and signed so no chances of getting lost
There will be no sweep vehicle but a volunteer on a mountain bike will be cycling laps following the last rider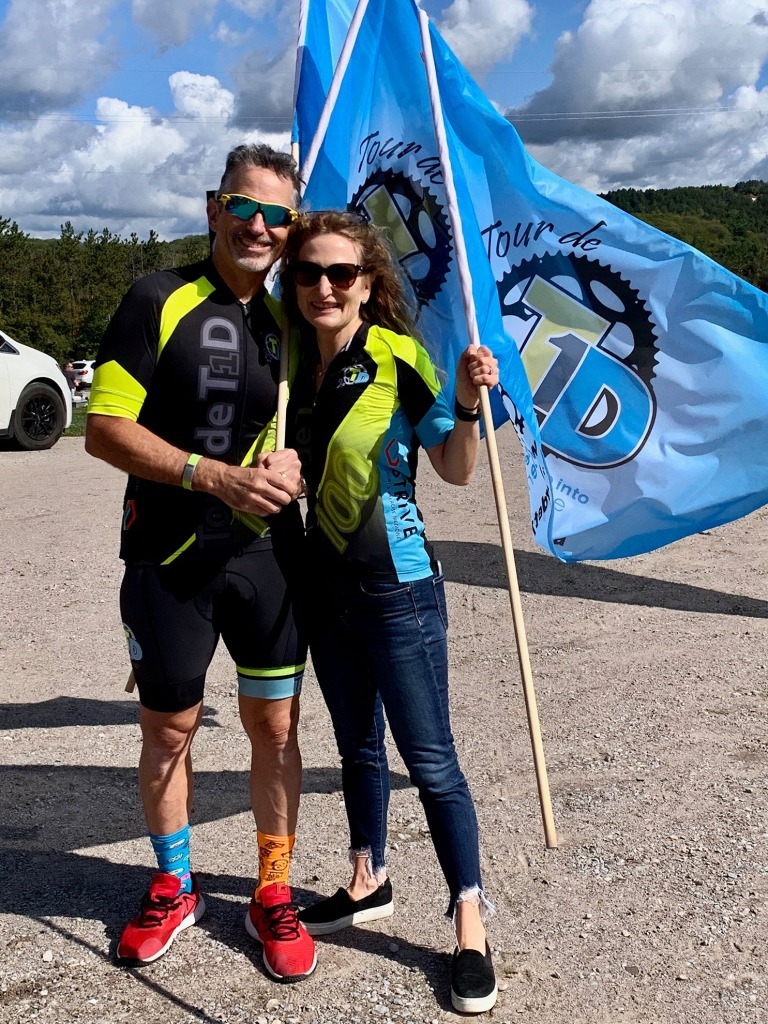 You can still get a great jersey!
Get your great custom Tour de T1D jersey celebrating the ride and the 100th anniversary of the discovery of insulin! Designed by Nicole Van Beurden.
It can be purchased from Jakroo directly and delivered to your door. You can wear it proudly as you highlight your support for this great cause!
Order at : http://shop.jakroo.ca/Tour-de-T1D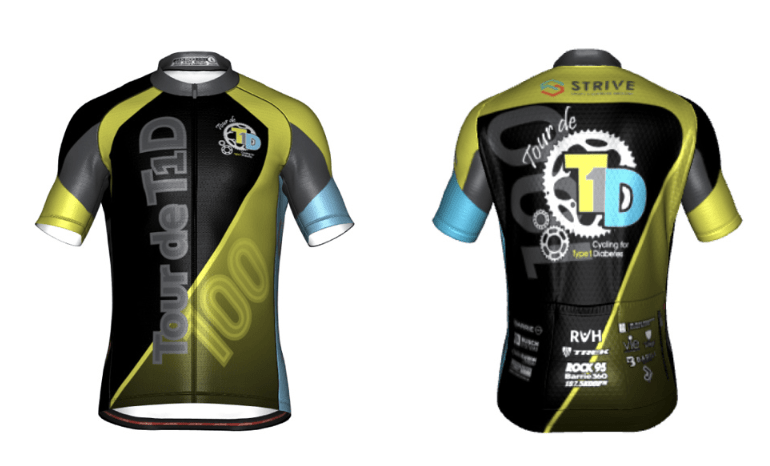 In 2016, Barrie physicians Drs Darlene Newnham and Richard Goudie's son Lukas was diagnosed with Type 1 Diabetes (T1D) at the age of 14.
In 2018, Lukas's parents combined their passion for cycling with their desire to raise awareness and funds to improve the lives of youth with T1D. Since no large scale outdoor cycling event existed in Canada, they created the Tour de T1D. To date, their ride has seen over 300 riders and raised over $80,000.00. Their dream is to see this ride become a recognized annual T1D event drawing riders from all over Canada.
T1D is an autoimmune disease for which no cure exists.
It is still considered a lifelong condition managed with insulin via repeated daily injections or an insulin pump providing continuous delivery.