WELCOME!
The Tour de T1D 2023 has officially launched and is ready for you to sign up for this year's ride!
Join us Sunday the 24th of September 2023 as we ride for the 6th year in support of Type 1 Diabetes. We are again raising money for the Royal Victoria Regional Health Centre's Youth Diabetic Clinic. In 2022, we raised $23,005 and hope to surpass that this year with your help!
Over the past 5 years, we have raised $133,000!
The Tour de T1D begins and ends at the Heights Ski and Country Club in Barrie Ontario. The rolling hills and incredible fall colours of Oro-Medonte are the beautiful background for our annual fundraiser.
Come ride or volunteer with us! If you aren't able to join us this year, please consider donating to help kids and families who live with Type 1 Diabetes.
Date: 24 September 2023
Location: The Heights Ski and Country Club
High Vista Dr, Barrie, ON L4M 4Y8
Timing:
Rider registration: 7:00 am
100K Paradise Developments Route start: 8:30 am
55K Route start: 8:45am
25K Dexcom Route start: 9:00 am
The Madison Group RBC Dominion Securities Trail Route start: 9:30 am
Rest stations: 2 rest stations for the 55K and 100K riders, sponsored by Busch Systems.
Lunch: 11:30 – 13:30
Sponsored by Barrie Nissan

Final reveal: 13:00 hrs.
Registration: https://www.tickettailor.com/events/tourdet1d/906582
Cost per rider: $75.00*
*The cost is for registration only. The registration fee allows us to deliver a great event for you to enjoy but don't forget to start individual participant fundraising pages as these funds will be directed to the Youth Diabetes Clinic. We encourage each rider to strive for a minimum goal of $250. Challenge each other to see who can raise the most!
Each rider will receive a Tour de T1D bottle and an event T-shirt.
Sweep vehicles and drivers provided by Barrie Nissan.
The amazing Volunteers sponsored by Home Hardware / United Lumber on Bayfield in Barrie.
We will provide additional updates and important details as we get closer to the event.
Bring your friends, enjoy a great day of riding and help us provide help to families and youth living with Type 1 Diabetes!
See you in September!!!
Get Your Jersey Soon! New Design Coming Up!
We have finalized the design of this year's jersey. A great addition to your existing selection of cycling apparel, this high quality jersey available in relaxed and race formats from Jakroo can be purchased directly from the Tour de T1D Store. Order now to wear proudly and show your colors on September 25th.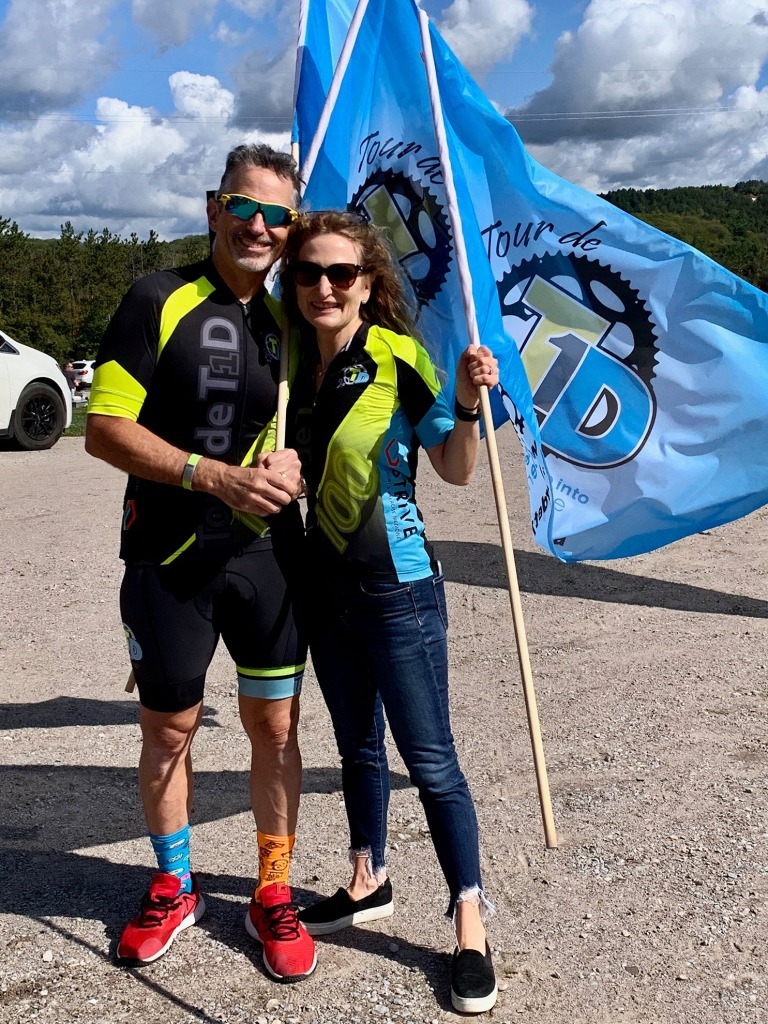 In 2016, Barrie physicians Drs Darlene Newnham and Richard Goudie's son Lukas was diagnosed with Type 1 Diabetes (T1D) at the age of 14.
In 2018, Lukas's parents combined their passion for cycling with their desire to raise awareness and funds to improve the lives of youth with T1D. Since no large scale outdoor cycling event existed in Canada, they created the Tour de T1D. To date, their ride has seen over 300 riders and raised over $80,000.00. Their dream is to see this ride become a recognized annual T1D event drawing riders from all over Canada.
T1D is an autoimmune disease for which no cure exists.
It is still considered a lifelong condition managed with insulin via repeated daily injections or an insulin pump providing continuous delivery.